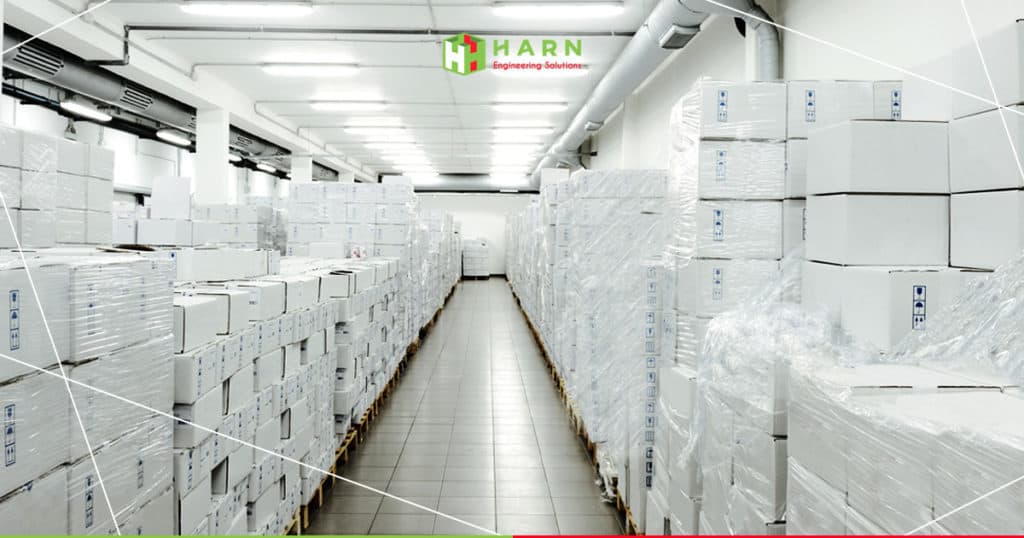 Cold storage is crucial for many businesses that need to keep products, raw materials, merchandise in a room with constant cool temperature to keep quality and freshness before sell. Cold storage reduces growth rate of bacteria and spread of diseases that may contain in raw materials such as food, fruits and vegetables. It also prevents from deteriorate and delay decay process.
Selecting cold storage for business should consider factors ranging from choosing the right location, ease product delivering, easy access, and able to examine containment quality monthly so that it delivers at its best outcome.
Types of cold storage
Cold storage is a method to preserve raw materials such as food, seafood, meats, fruits, vegetables, processing food. It can be categorised into fridge and freezer where one main objective of both types is to stop microbe growth or to execute microbe in order to maintain food quality, control decay, and keep its freshness and expand shelf life.
There are 2 types of cold storage:
1. Refrigerator storage
It uses temperature above zero-degree Celsius in which suitable for:
Vegetables & fruits are maintained for a short period of time and temperature is similar to room temperature and no lower than 15 degree Celsius.

Meats, dairy products, and seafood are stored at nearly freezing point and no higher than 15 degree Celsius.
2. Sub-zero storage
It is used to store raw materials under freezing point so that it can be kept for long period of time.
Food that need to be kept fresh can be stored for a long period of time and is maintain at minus 18 degree Celsius.
Main components of cold storage
Regardless of its temperature and types, one main common objective is to maintain a desired temperature and safety while using.
Main components of cold storage are comprised of the following:
1. Compressor
Compressor for cold storage is kept in a contained place to compress refrigerant to gas at high temperature effectively.
2. Air-cooler condenser
When refrigerant is being sent from compressor, condenser will help ventilate the heat by making the air circulate at lowest speed but able to perform heat convection effectively, making a condenser quiet while working.
3. Ceiling unit cooler
Work process of ceiling unit cooler is similar to evaporator. A difference is method to create the cool. The ceiling unit cooler uses heat convection to generate the cool or air humidity.
4. Cold air wind curtain
Cold air wind curtain is a shield to heat, toxic air, dirt, smells, insects, and other unknown substance that may enter cold storage. The cold air acts as a wind curtain in front of the cold storage and also helps with air ventilation inside the storage.
5. Electronic control box
It is used to control temperature in cold storage and can be timed for defrost. It controls the fan system by using with 380V or 220V electricity.
6. Cold storage door
Cold storage door is special when comparing to other types of doors as it is made from durable material and heat repellent on the outside while maintain the cool of the inside with heat insulate. It is also water resistant and anti-humidity.
5 things to consider before building cold storage
1. Size of the storage and space
Once choose the size of cold storage to match with raw materials to be stored, space for cold storage should be compatible. There should be enough spare space for installation, loading products or raw materials including easy access for delivery trucks.
2. Temperature and raw material
Raw material stored should be well planned and organised in specific location inside cold storage in order to aid access, store, and transfer. Moreover, quantity of products stored also affects the room temperature. Once need to store large amount of products, the cold storage should also reflects its size.
3. Ventilation
In storing raw materials for long period of time and constantly has new products to be stored and removed, it may contain unknown substances or causing unpleasant smell. Therefore, cold storage should have an effective ventilation system in order to maintain temperature and quality of products.
4. Electricity
Cold storage uses 380v electricity or 3 phases electricity. However, if using regular household electricity of 200v, it must be assured that electricity is constantly delivered at all times with no short circuits. Also, the location of the cold storage is not at the end of electricity line because if lack of electricity power, other electronic appliances in the same area will be affected and may shorten its lifetime.
5. Maintenance
Maintenance should be at least once a month in order to examine capability of cold storage, find breakage or damage by certified engineered only.
Conclusion
Buying cold storage for business should care for products, temperature, location, and electricity. Nevertheless, maintenance and audit are important because all equipment can affect storage temperature. Once storage temperature is unstable, products or raw materials contained may be damage or decay.
If you are looking for more information on refrigeration and cold storage, please feel free to contact us here. We are more than happy to assist you.
Subscribe to our newsletter
Subscribe to our weekly newsletter to get update to your inbox!