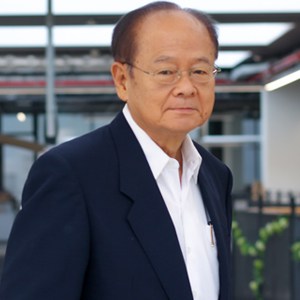 Dr. Thakol Nunthirapakorn
The Board of Directors shall elect one of the Board members as Chairman of the Board to supervise and control meetings of the Board and meetings of the shareholders of the Company to ensure efficiency and compliance with relevant rules and regulations and to meet the meeting objectives. Roles and Responsibilities of the Chairman of the Board as a leader of the Board of Directors are as follow:
Calls for the Board meeting according to the policies. In urgent cases, the Chairman of the Board is the head of the meeting and in the Annual General Meeting including determines agenda of the meeting with the Chief Executive Officer.
Supports and gives opportunities to all committees or shareholders to be a part of the meeting and supports the committee to be discrete on comments independently.
Supports and promotes the Board to serve at full capabilities but under authorities and responsibilities with good corporate governance.
Directs and follows up administrative works of the Board effectively and focuses to achieve main objectives and goals of the company.
To look after management of the Board of Directors' and Sub-committees' effectively and to achieve set objectives.
To cast a decisive vote if the votes are on par in the meeting of the Board of Directors of the company.
Age
76 Years
Current position
Independent Director (Non-Executive)
Chairman of the Board
Chairman of the Audit Committee
Shareholding proportion
(as March 15, 2021)
None
Date of appointment
September 5, 2012 (The company was listed on the Stock Exchange of Thailand in 2014, resulting in continuous holding the position.)
Years of independent directorship
7  years (May 22, 2014 – Present)
Education
– Ph.D. (Accounting, MIS, Economics), University of Arkansas, Fayetteville, Arkansas, USA.
– M.B.A. (Quantitative Analysis), Northeast Louisiana University, Monroe, Louisiana, USA.
– B.S. (Finance), West Liberty State University, West Virginia, USA.
– High Vocational Certificate (Finance and Banking),  University of the Thai Chamber of Commerce
Training program
Training program of Thai Institute of Directors Association (IOD) :
1. Role of the Chairman Program (RCP), Class 43/2018  
2. Anti-Corruption the Practical Guide (ACPG), Class 36/2017 
3. Chairman Forum (R-CF), Class 1/2016 
4. Directors Certification Program (DCP), Class 228/2016 
5. Ethical Leadership Program (ELP), Class 3/2016 
6. Audit Committee Program (ACP), Class 8/2005 
7. Director Accreditation Program (DAP), Class 8/2004
Experience in the past 5 years
2019-Present Directors and Member of the Audit Committee, United Paper Public Company Limited
2015-Present Independent Director, Chairman of the Board of Directors and Chairman of Audit Committee, Harn Engineering Solutions Plc.
2002-Present Independent Director and Chairman of Audit Committee, Ratchthani Leasing Plc.
2012-2015 Independent Director and Chairman of Audit Committee, Harn Engineering Solutions Plc
2012-2015 Dean of Accounting, University of the Thai Chamber of Commerce
2005-2011 Vice-Rector for Administration, University of the Thai Chamber of Commerce
Positions in other listed companies
– Ratchthani Leasing Plc.
– United Paper Plc.
Having a Special Interest that is Different from Other Directors
None
Family Relation with Other Directors
None
Dispute in the 10 Preceding Years
None
Participation in administration, staff, employees or consultants who receive a regular salary
None
Being a professional service provider, such as an auditor, legal advisor
None
Significant business relationships that May result in inability to perform duties independently
None