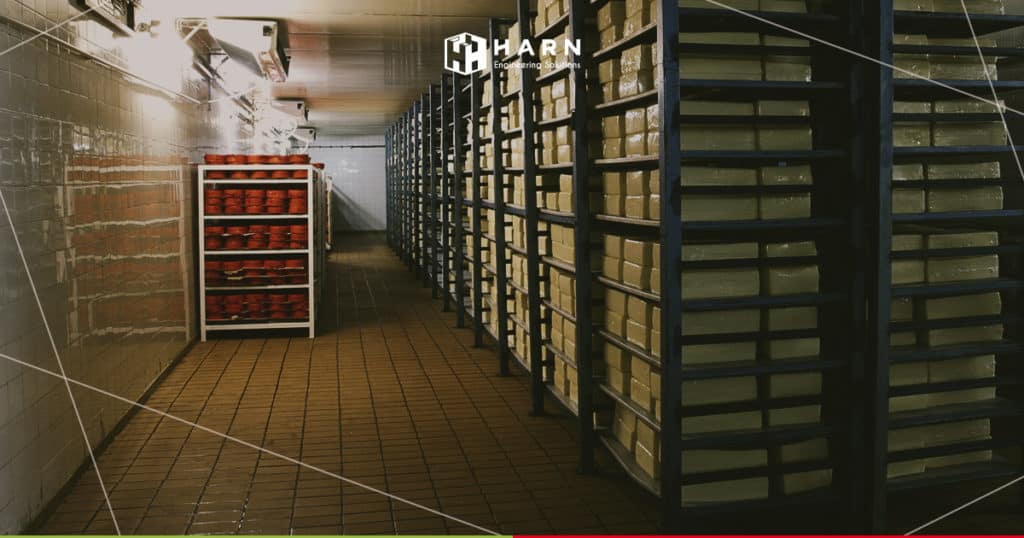 The food industry is one of the biggest industries in Thailand that generates revenue both from import and export. The process of preserving food products whether frozen seafood, ready-made meal to other type of fresh food all require cooling to extend the shelf life and able to transport food over long distance. One of the cooling process is to freeze in the cold storage at the temperature around -20 to -25 Celsius before being deliver.
This article is about Air Blast Freezer which is one of process works by quickly chill the product both in term of work and specifications for freezing food efficiently.
Freezer Classification
Freezer is a refrigeration machine for freezing room, in large industry, there are two types that are mainly used:
This type of freezer uses less space to install and use less power to operate compare to Air Blast Freezer with the same capacity. However, the disadvantages of this type of freezer is product that will be brought to freeze must have uniform thickness and smooth surface. Function of this freezer is quite specific and not diverse, so it is not very popular.
2. Air Blast Freezer
Air Blast Freezer is flexible to use, it can freely freeze variety of products of different sizes. For this reason, this type of freezer is very popular. Air Blast Freezer is divided into 2 main groups:
Continuous Freezer
Product to be refrigerated will be placed on the cart or on the grid that gradually moves into the Blast Freezer. When the first cart moves out, the next move in. This make this type of freezer suitable for Mass production.
This form of freezing is divided into two types of airflow:
Cross-Flow Freezer:
Direction of cold wind will flow against the direction of the cart moving into the room.
Series-Flow Freezer
Direction of cold win will flow in the same direction with the cart.
Batch Freezer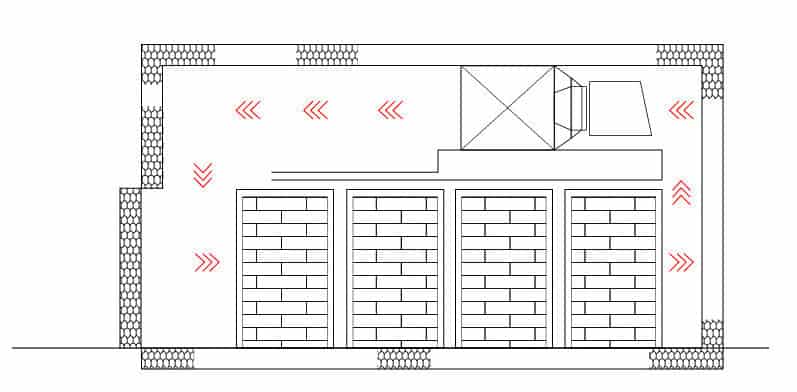 Products to be refrigerated will be arranged in trolley with shelves, product will be uniformly distributed. The trolley is then tucked into the room and arrange evenly to fill from front to back.
Main reason for having consistent space between trolleys is because when the air gap is too large, cold air will flow out through those space; this will reduce efficiency of the freezer. Therefore, the product will spend more time to freeze than usual. This is a waste of energy and reduce quality of frozen products.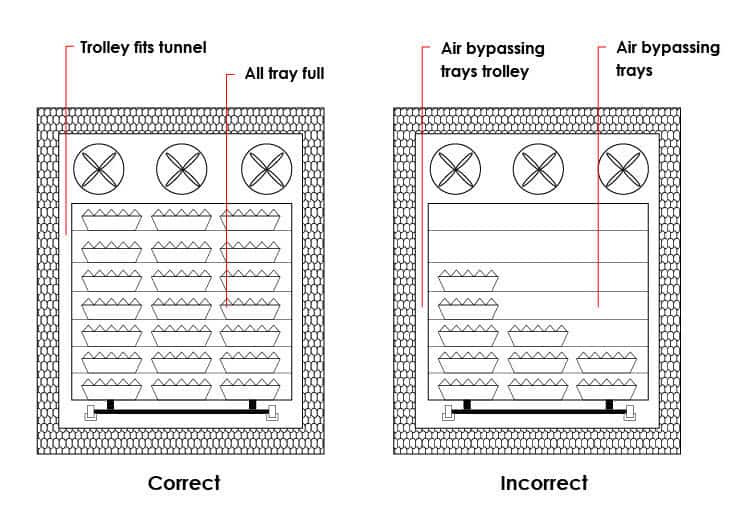 Proper Layout of the Tray
In addition to placing the product in the appropriate space as previously mentioned, height of the edge of the tray must not be higher than product since it can block the cold air that blow toward the product. Moreover, material used to make the tray must be strong and resist too cold to allow the product to cool quickly.
Material used is aluminium (14-16 gauge) and distance between upper and lower tray must be 2:3 to ratio. For an example, if tray is 3 inches high distance between tray must be 2 inches as illustrated below.
Impact of Improper Packaging
Variety of package bring to freeze such as plastic bag, foil or package that contain saline before freezing is the cause of delay freezing. Sometimes it can cause a lot of delay and cause compressor the overwork. Before creating the Air Blast Freezer, it must first identify products wanted to refrigerate to provide accurate information to freezer system designer.
Conclusion
Process of freezing to maintain product quality is essential in processes of maintaining raw material and food for a wide variety of business by using a cooling system in cold room as mention in first part of this article.
In the next article, let's take a closer look at Air Blast Freezer in theory perspective to help you decide on freezer installation that best suit your business. If you need more information on a refrigerating system in the frozen industry, please contact us. We have experts who could provide full guidance
Written by Dr. Sukit Litikorn
Engineering Support Director, Refrigeration System
Harn Engineering Solutions Pcl.
——————————————-
References
– HANDBOOK OF POULTRY SCIENCE AND TECHNOLOGY
– Proceeding of ENCIT 2010 "AIR BLAST FREEZERS AND THEIR SIGNIFICANCE TO FOOD FREEZING : A REVIEW"
– FRITERM TERMIK CIHAZLAR SANAYI VE TICARET A.S. "BLAST FREEZING APPLICATIONS IN CONVENTIONAL ROOMS"
Subscribe to our newsletter
Subscribe to our weekly newsletter to get update to your inbox!